Firstly, I apologise for this entry being a day or two later than normal.  However, I was busy helping my daughter play her first ever gamebook – The Warlock of Firetop Mountain!
It was all worth it when she yelled at me this morning (while I was in mid-shower) about how she'd 'killed a minotaur, and found 9 Gold Pieces and a red key!!'
I regret nothing.
Secondly, in my ongoing acknowledgement of contributors to the blog, I thank T-Man, and draw my readers' attention to a hilarious Onion article about restaurant politics :
The Onion – Area Applebees a Hotbed of Machiavellian Politics
So – The Prisoners of Time
Short version : Not terribly impressed, to be honest.
Slightly longer version :
There was a fantasy writer (whose name escapes me for the moment, feel free to chime in down in the comments section) who said that 90% of the world-building which an author does for their novel / series of novels should forever remain unknown to the reader.
By this he (I think it was a he) meant that you create your world, with all of its history and culture, and then allow your story to take place organically amongst it.  Details about the society and structure of the world will, ideally, naturalistically leak through to the reader, hinting at a whole spectrum of stories taking place 'off-page' as it were.
For example, while the Star Wars screenplay (and its not called A New Hope, don't make me come over there) was far from perfect, part of what made it fascinating were the repeated reference to events, people, things and places that didn't impact directly upon the story, but let us know that there was a whole galaxy of events happening at the same time.  Names such as the Emperor, the Academy, the Kessel Run, the Imperial Senate, Anchorhead, Dantooine, Jabba the Hutt and General Antilles rolled around in your brain while you watched the main action.
Exhibit for the Prosecution : The Prisoner of Time.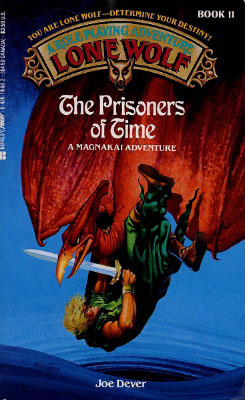 Joe Dever has worked hard to create the universe of Aon and the world of Magnamund, and oh, boy, does he want to show off.  So, so, much of the Prisoners of Time involves Lone Wolf meeting an important 'NPC' (the Beholder, Serocca, Lorkon Ironheart, etc), getting force-fed reams upon reams of exposition, and then continuing on, with said exposition only being marginally relevant to the larger quest / adventure.
I don't know at this stage whether any of these characters will feature in further adventures (in my youth I only progressed to Book 14) but their backstories were really just window dressing for Lone Wolf's quest for the Lorestones, where the main driving force became Lone Wolf's own 'force-esque' ability to hone in on said Lorestones when they were in his vicinity.
And, as one of my faithful commenters pointed out, if Joe Dever really wanted to give characters a backstory which was relevant to the larger narrative, you had the five 'Villains of Sommerlund' RIGHT THERE waiting to be given a greater role.
For example, in the well-known Batman story 'Knightfall', a new villain 'Bane' comes up with a brilliant plan – he stages a mass prison break-out, which results in Batman exhausting himself by fighting each of his arch-enemies in a row, with a conclusion of Bane winning a comparatively easy victory against the immensely depleted Batman.
A similiar narrative could have applied here.  Rather than the 'mega-battle' of the Chaos-Master, Dever could have arranged for five separate encounters with the Sommerlund 'villains', with each one requiring a different combination of skill, combat, luck and Disciplines to overcome.  The final reveal of Vonotar as the puppet-master could have been drawn-out and suspenseful, with Lone Wolf wondering at the evil force behind these ongoing attacks from exiled evildoers.
And while I'm talking about combat balance, let's mention the statistical difficulty of the fights, shall we?
Firstly, the idea that a newcomer to Lone Wolf could overcome this book is laughable.  Even with the more serious wound inflicted upon the Chaos-Master by the Ironheart Broadsword, that combat is ridiculously hard.  And the final two fights would be just frustration waiting to happen, particularly in circumstances where they take place at the very end of the book.
Although I was obviously assisted in my playthroughs by my possession of the majority of Magnakai Disciplines, there really weren't any non-combat portions of the book where I considered that Lone Wolf was in any real danger.  I've gleaned from some of the comments as made that there were instances that would have been a lot more hairy if I hadn't possessed certain disciplines, but you would have to consider that a significant portion (if not most) of readers would have 6-8 Magnakai Disciplines by this point.
Therefore Joe Dever appeared to see fit to wedge most of the difficulty into the combats, in particular being the Chaos-Master fight and the Villains of Sommerlund fight.
I won't go into the maths, but, independently of Potions saved from book 3 and some such, I buffed pretty much every statistic I had, and still only had a Combat Ratio of 0.  And that was with the (slightly) more generous Project Aon scores!  Heaven knows how long I would have struggled with the absurd Chaos-Master statistics in the initial publication.
And then, remember there was the concluding fight with the 'Villains of Sommerlund'.  Imagine being a reader where this was your first Lone Wolf book.  You have a Combat Skill of (say) 16 (average), along with a bonus for Psi-Surge, and maybe a shield or a one Lore-Circle bonus, bringing your stats up to (around) 24.  The Villains have an automatic 10+ Combat Skill advantage!
And then, after losing a FURTHER (unavoidable) 5 Endurance points, you had to defeat Vonotar!
It was interesting that even Project Aon acknowledged this level of difficulty, with their initial edited comment about how the compulsory fights made the book practically impossible for a novice player.
In any event, despite my trepidation, I (luckily) finished the book on my second try.  It was an example of how much I felt like the book was a slog in that I dreaded cruising past all those lengthy passages of exposition to get to the 3-4 fights that would dictate my outcome.
Next up – The culmination (at the time) of the entire Lone Wolf series – The Masters of Darkness!