Yep!
Here again!
If I'm lucky, I'll be able to, you know, actually remember the rules of these gamebooks.
In all seriousness, thank you for all those who wished us a happy holiday.  We're all home safe, and yours truly was the only one who had issues with the local food.
A couple of house rule decisions!
You can view me as inadequate or wimpy, but I'm going to take the (Project Aon noted) +4 Combat Skill bonus in the 'other plane', and I'm going to consider the Deathlord and its undead (!) minions as undead for the purpose of double Sommerswerd damage.
For those of you who have now lost all respect for me, I accept your opprobrium.
In any event, at the end of my previous entry, I had been launched through a Shadow Gate into the Plane of Darkness, which took on the appearance of a jungle of dense vegetation.
Just in case I had any doubt, the whole place is redolent of evil….
My senses confirm that Tagazin is here (although beyond my eyesight) and that I will need to find another Shadow Gate to return to Magnamund…
I trudge through the muck, with my basic Kai skills being sufficient to fend off the various minor predators that try to lunch on my legs.
After a period of trudging that is thankfully spared a detailed description, I spot a stone structure that is apparently sinking into the swamp…..
As I approach the roof of this sinking structure, my Grand Pathmanship helps me note two things :
There is an opening in the centre of the roof leading down into (naturally) darkness.
A threat is approaching, being specifically a horde of 'monstrous shapes'.
Here – see for yourself :
Project Aon link – Horde of various monstrosities
The book now chooses to describe these things as 'Chaos-creatures' and gives me the option of standing fast or evading them by dashing into the stone structure.
Although the merits of dashing into a building that is sinking into a swamp seem debatable, my fighting record in this book isn't so great….
My hunters stop with apparent joy, and they consider that I have now sealed my DOOOOOOOM!
Specifically, I am cheerfully told that I have fallen from the base of the stairs into a 'deep, dark pit'.
I sink into a bog up to my neck (!) and see the monsters clustered above, enjoying my apparent doom.
And just when I thought things couldn't get any worse, I feel something, no doubt unfriendly, brush against my leg!
I use my Kai-alchemy spell of Levitation but, naturally, my foes at the top of the staircase try to attack as I float upwards.
Given my attempts to float and fight at the same time, I have to make an R10 check.
My result of 9 (!!!) looks good!
I make it up to the top, but now have to fight these Chaos-creatures :
Chaos-Creatures – CS : 37, E : 45
Lone Wolf (with Kai-surge) : CS : 52, E : 25
I win in three rounds, for a total loss of 5 Endurance….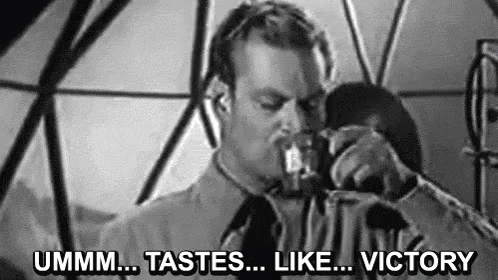 I kill enough of these filthy creatures to hurdle the remainder, and follow the tracks (!) of the Demonlord into the jungle.
As I reach the crest of a hill, I am pleased to see another Shadow Gate, although Tagazin, along with its minions, is waiting in front….
Tagazin moves towards the Shadow Gate, and I am concerned that if it makes it through, his minions (Lavas) will then close it (the gate) behind it….
Using my skill of Assimilance, I get as close as I can before my 'goodly energy (!) gives me away, and I have to fight the Lavas….
Project Aon link – Lavas flying to battle
Lavas – CS : 49, E : 52
Lone Wolf – CS : 52, E : 23
I win, although my Endurance is reduced to 14….
Taking only a moment from my victory, I see that a fresh batch of Lavas are carrying some kind of evil crystal weapon, which I'm sure they aren't going to use against me
I use my skill of Kai-alchemy to hasten forward, and have to fight Tagazin for one round of combat….
Tagazin (injured) – CS : 45, E : 45
Lone Wolf – CS : 52, E : 16
My result of 2 means that Tagazin cops 8 damage, while I lose 4….
The Lavas placce this crystal object (which I now see is a magical helm) upon Tagazin's head, and my situation seems even bleaker….
My R10 check means that I don't automatically die, but now I need to have a final confrontation….
Till next time!
Note : I can't guarantee frequent updates over the next couple of months, but I'll try my best….
Pop culture!
For all of their personal faults, Richard Pryor and Chevy Chase were extremely gifted comedians.  This sketch, from the first year of Saturday Night Live, was both hilarious and pointed about race relations.
Language warning : This skit contains a number of extremely offensive terms regarding race, which is sort of the point.
Basic Stats : CS : 26, E : 39, GC 50
Current Stats : CS : 44/44, E : 16/40
Weapons : Sword
Weapon-Like Special Items : Silver Bow of Duadon (+3), Sommerswerd (+8 CS),
Backpack :  Lantern, Rope, Jar Laumwort x3 (+2 Endurance), Ruby Ring, Potion of Alether (+2CS), Hammer, Laumspur (x0) (+4 E), Jar Laumspur x4 (+4E), Jar Alether x2 (+2CS)
Special Items :
1. Sommerswerd (+8 CS) (with Korlinium scabbard) 2. Crystal Star Pendant , 3. EMPTY 4. Quiver (6 arrows),  5. Statuette of Zagarna, 6. EMPTY 7. Silver Rod 8. Jadin Amulet (+1 to dodging) 9. Jewelled Mace, 10. Silver Bracers (+2 CS, +1 E) (6), 11. Golden Key 12. Silver Bow of Duadon.
Extra Special Items – Platinum Amulet, Scroll with Invitation
Kai Monastery storage :
Gold Crowns : 13
Backpack Items : Sack of Silver (3), Brass Key, Black Key, Jar Gallowbrush x2 (Sleep and -2 Endurance), Jar Sabito x2 (Underwater breathing), Spyglass, Arrows (1), Whistle, Ball of String, Bottle of Wine, Bowstring.
Special Items :
Grand Master Rank : Sun Thane
Grand Master Disciplines : Kai-surge, Kai-screen, Grand Huntmastery, Grand Pathsmanship, Kai-Alchemy, Assimilance, Grand Nexus, Deliverance.
Magnakai Disciplines : Weaponmastery (+4 CS in Sword, Bow, Mace, Dagger, Spear, Quarterstaff, Broadsword, Warhammer, Axe, Short Sword), Pathmanship, Huntmastery, Divination, Invisibility, Nexus, Psi-Screen, Psi-Surge, Curing, Animal Control
Lore-Circles : Fire (+1 CS, +2 E), Light (+3 E), Solaris (+1 CS, +3 E), Spirit  (+3 CS, +3 E)
Kai Disciplines : Camouflage, Animal Kinship, Tracking, Hunting, Sixth Sense, Healing, Mind Over Matter, Mindblast (+3CS), Mindshield, Weaponskill (+2 CS in Short Sword)
Current paragraph : 142